CELEBRATE VALENTINE'S DAY IN LUNA ASIAN BISTRO
Everyday with you is special, but today it's extra special.
This Valentines Day, express your love by treating your love ones with our special menu of your choice.
Dine with style with your sweetheart and discover our romantic settings!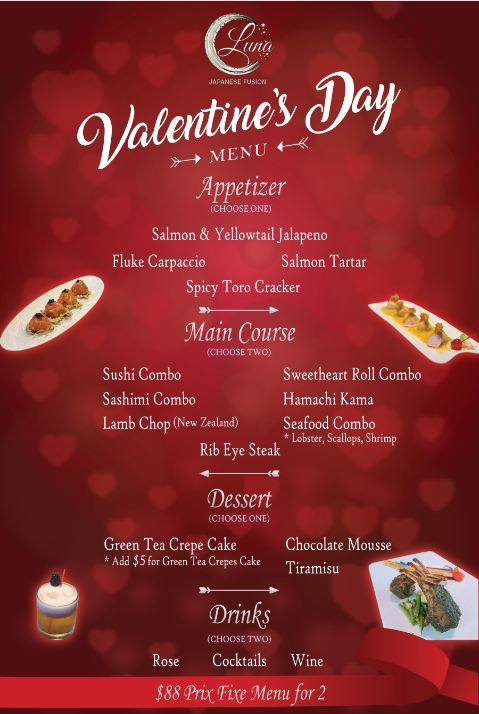 Call us now for reservation! 917-832-7911
LUNA ASIAN BISTRO LAUNCHES SECRET MENU IN LIGHT OF THIS YEAR'S "DOUBLE SEVENTH FESTIVAL"
Astoria, NY – Luna Asian Bistro & Lounge, an Astoria-based full-service Japanese all-you-can-eat restaurant that provides high quality and traditional Japanese rolls among other items, this week announced in lieu of the Luna Festival and Mid-Autumn Festival popular in Japanese culture, they will be offering a special promotion throughout this week.
Observing the festival on October 4, 2017, the special Luna Festival deal can be purchased at this time at: http://simpon.com/deal/830.html
"Even though we are far away from Japan, we can still celebrate this special holiday and observance right in our Queens restaurant," said Meiyun, Founder and Owner of Luna Asian Bistro & Lounge. "In order to make it as special as possible, we are offering deals and discounts that will make the entire experience enjoyable, as well as affordable, for restaurant patrons."
Luna Asian Bistro is known for their all-you-can-eat and all-you-can-drink special for $40, running over a 2-hour period. Their menu contains all traditional Japanese items like tuna rolls, eel avocado rolls, spicy tuna rolls, avocado rolls, California rolls, Yellowtail Scallion rolls, spider rolls, dragon rolls, rainbow rolls, and the list goes on.
For those wishing to get a better look at the entrees and items they can expect at Luna Asian Bistro, the website contains a high-quality gallery for viewing at this time.
"We want everyone to enjoy our socially boisterous restaurant with as many friends and family members as possible," said Meiyun, Founder and Owner of Luna Asian Bistro. "Spread the word on the forthcoming autumn festival, and head on over to our website today to claim the discount deal for this special week."
LUNA ASIAN BISTRO LAUNCHES SECRET MENU IN LIGHT OF THIS YEAR'S "DOUBLE SEVENTH FESTIVAL"
New dish will give guests the opportunity to cook their choice of beef or shrimp skewers at their tables
Astoria, NY – Luna Asian Bistro, an Astoria, Queens-based Japanese Fusion restaurant that offers a variety of food selections and different cuisine choices today, this week announced in order to celebrate the Double Seventh Festival, to occur August 28, 2017, they are offering secret menu items.
Available to those who visit Luna Asian Bistro on the one-day-per-year holiday, the Double Seven Course, a prix fix meal for couples, will include choices from truffle salmon appetizer, lobster wonton, salmon tartar, New Zealand lamb chops, Hamachi Kama, sushi, sashimi and dessert, just to name a few choices. The original price for this prix fix meal is $100 but you can enjoy it for $60 by purchasing this coupon at http://m.simpon.com/#/deal/815
"This is a secret menu item requiring guests to ask the waiter about it upon their arrival," said Leo, Founder and Owner of Luna Asian Bistro. "Since this day is known as the Chinese Valentine's Day, we want to offer a romantic ambience that is conducive to indulgence and love on this year's Double Seventh Festival."
The Double Seventh Festival falls on the seventh day of the seventh lunar month each year. Also known as Qixi Festival, the Double Seventh Festival is the equivalent of Valentine's Day for those from Asian cultures.
The festival came to be from a legend thousands of years ago following Niu Lang and Zhi Nu. Niu, guided by an old man, healed cattle sent from heaven. As a thanks to Niu, the old men's cows helped him get acquainted with Zhi Nu, a fairy sent from heaven. They fell madly in love with one another and had a baby girl and boy. The king in heaven looked down and saw Zhi's good deeds, and demanded she return to heaven. Niu chased after her, but before he reached her, she created a river between them, now flowing today with her tears.
"This is a classic romantic tale that moves everyone who learns about it," said Leo. "Come visit us this Double Seventh Festival."
Please call to make reservations at (917)832-7911 / (917)832-6272
Get Coupon