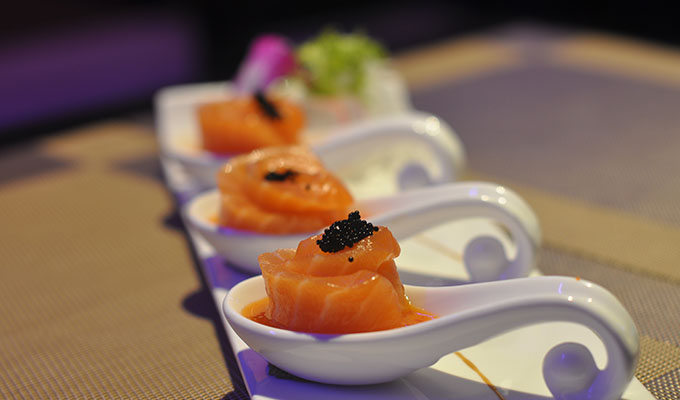 Have you wondered what a 'piercing taste' is like? Luna's Chef Special Sashimi Platter is what packs a piercing experience on the palate. It is one of the highlights of our Rooftop Restaurant in Queens. The platter consists of eighteen pieces of raw fish which are tender and instantly yielding to the teeth. Its unique flavor is richly evocative of the essence of traditional Japanese cuisine.
The essence of seasonings and condiments in sashimi
Our chefs pay special attention to using the right amount of seasoning and condiments. Balance is the key. Therefore, while including the likes of soy sauce, wasabi and ginger, it is crucial not to kill the natural odor of sashimi. That is where the essence of Japanese food lies, after all.
Apart from that, some of our favorite garnishes include perilla leaves, daikon radish and tsuma. Luna chefs have a fine way of snipping tsuma into intricately delicate slices. However, innovation is our mantra. Therefore, you can expect to come across a host of variations with our Chef Special. Moreover, Luna has always been accommodative of customer feedbacks from time to time.
The near-perfect softness of raw fish in Luna sashimi
What makes raw fish at Luna special? It is its ultra-soft texture.
The texture of Luna's sashimi is a delicately blended note of silk and slippery. It is fresh, taut and yet yields fairly quickly to the palate. At the same time, it is not exactly melting. Instead, it is only deliciously chewable, succulent and packed with mildly acidic marinades. It is a tad tart (which is a surprise) towards the end and leaves a very interesting twist of sweet and sour notes on the tongue.
Presenting the perfect platter of Japanese sashimi
Luna's Chef Special is a concoction of expertise, love and care. Your Rooftop Lunch Specials in Astoria could not get better. The visual appeal of the platter, for instance, is enough to whet your hunger pangs – a rainbow of colors, tones and shades, evoking the multicultural essence of Japan.
Japan's is a culture thoroughly dedicated to aesthetics. Therefore, Luna Asian Bistro plays special attention to upholding the aesthetic standards of Japanese cuisine. Moreover, engaging our cherished customers in a truly multisensory eating experience has been one of our hallmarks. So, you may expect your Chef Special Sashimi Platter at Luna to be a celebration of flavors and colors.