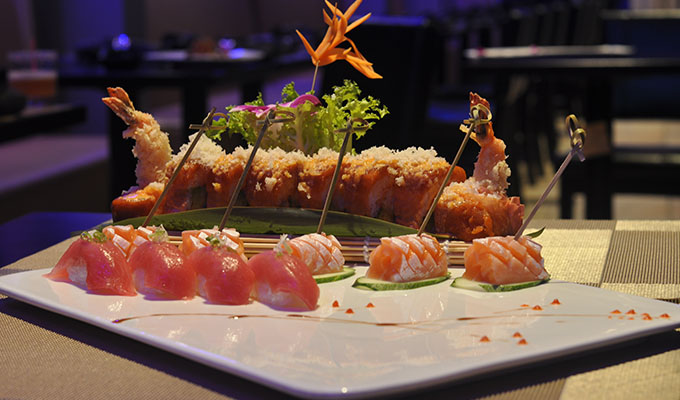 If you want to explore Japanese cuisine this festive season, look no farther. At Luna Asian Bistro, one of the finest and most recommended sushi restaurant in Astoria, our craftily curate sushi selection is bound to make you drool. And you have no reason to fret on the price.
A Fascinating Range of Sushi Delights
As a venture committed to all-round customer satisfaction, we leave no stone unturned to bring in our innovation to whatever we do. Hence, from sushi deluxe to sushi sashimi, the sheer range of sushi available at our restaurant is more than intriguing.
Consider, for instance, our highly iconic Chef Special Sushi Platter. It chiefly consists of twelve pieces of assorted sushi complemented by one spicy tuna roll. Apart from that, you might also want to explore the likes of Chirashi and Salmon Lover.
At the same time, our prices have been designed in accordance with certified industry standards. Our rates have been competitively priced with a view to strike a balance between customer priorities and market demands. Besides, it is the festive season. Keeping that in mind, we have brought an offer of arranging a corporate dinner with food and wine at $35.
Chef Special Sashimi Platter and Sushi for Two
Our highly popular Chef Special Sashimi Platter which consists of eighteen pieces of assorted sushi coupled with a delightful tuna roll. It is one of the most cherished and sought-after sushi delicacies.
Or, you might want to try our equally popular sashimi deluxe. It is packed with fifteen pieces of assorted sashimi. Our Sushi for Two consists of eighteen pieces of sushi coupled with one dragon roll and spicy crunchy salmon roll. Hailed the best Japanese restaurant in Queens, our amazingly curated sushi selection is exceedingly worth your time.
Japanese cuisine continues to be popular across the length and breadth of West. At the same time, it is important to note that one cannot avoid the popular misconceptions surrounding Japanese food. However, at Luna Asian Bistro, our principal aim is to correct the flawed notions and bring the best of Japanese magic to our customers.
Speaking of price contours, we leave no stone unturned to come up with the most accommodative cost structure, keeping in mind consumer and market dynamics. And with the festive season at the door, we bring you the best deals in town.