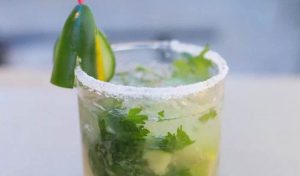 Beginning with the cocktails: Fly to the Moon, Red Luna, Green Lady and Lucky Lychee. Proceeding to Chef Special Rolls: Luna, Dynamite, Sweet Heart, Viking and Magical. Could there be a more delightful Japanese menu to compliment a corporate party? Add to it our on-season offer of rooftop food and wine at no more than $35. So, if you wonder, 'where may I find the best Japanese food menu near my location?' Luna Asian Bistro should be your ideal venue.
Come Relish a Ravishing Teriyaki Dinner
Teriyaki is a traditional cooking technique used in Japanese cuisine. Generally speaking, the technique involves grilling foods with soy sauce, mirin and sugar.
At Luna, you get to enjoy authentic Teriyaki dinner at the best prices. From salmon and tofu to shrimp and rib-eye steak, our specials reek of a magnificent blend of the modern and the traditional.
Apart from that, we also have tempura dinners served with rice. From shrimp tempura to chicken katsu, our tempura delights are meant to compliment the festive mood.
Grab a Steaming Plate of Special Kitchen Dinner
If you seek to brighten up the corporate event, why not try our Special Kitchen Dinner?
For instance, consider our highly popular Crispy Whole Fish. It is deep-fried whole fish marinated in mango. You might also consider pan seared Chilean sea bass. It is one of the most cherished and sought-after delicacies at Luna. At the same time, both delights are competently priced.
Enjoy our Sushi bar Entrée
Are you wondering, 'Is there a sushi takeout near me reliable enough for a corporate event?'? In that case, consider the fascinating range of sushi available with us.
For instance, consider sushi deluxe which consists of nine pieces of assorted sushi with one tuna roll. Or, you might want to try the likes of Salmon Lover, Chirashi and Sushi Sashimi. Chirashi, for instance, is one of the most cherished sushi delights at Luna. It is nothing but a splendid concoction of thirteen raw fish, eggs and pickles over rice.
Apart from that, our highly valued Salmon Lover is known for its quintessential spiciness.
Our restaurant continues to uphold the values of traditional authentic Japanese cuisine. Whether for corporate events or personal occasions, you get to enjoy the best food at the best rates. Moreover, our genuinely diverse selection speaks for itself.