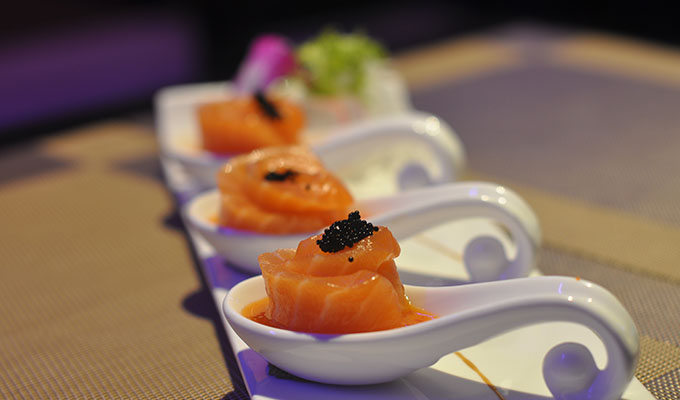 Luna Asian Bistro is known for its quirky experimentalism. Starting from Spicy Mama to Spider Man, our 'chef's special' list is packed with culinary performances that are steeped in surrealism. At the same time, our chefs make it a point not to compose a meal at the expense of public health. Our team strikes a balance between innovation and ethics. So if you type, Japanese food menu near my location you will be shocked to come across the mention of Lady Gaga!
Lady Gaga is cardinally shrimp tempura. Japanese culinary tradition would be incomplete without the same. The dish is packed with fish, shrimp and vegetables dipped in egg batter. The latter is deep-fried to trot out a lighter and crispier crust. The dish is typically served with a tangy sauce.
There are more reasons than one why our chefs have chosen shrimp tempura to grind their creative juices. The foremost reason is its immense historical significance. Its origins can be traced to the 15th century against the backdrop of Portuguese traders.
Next, shrimp tempura is a diverse dish, in every sense of the term. It may be included in any meal during the day. It indeed allows room for innovation. Apart from that, shrimp tempura is something that is instantly evocative of the Japanese taste. Its immense cultural weightage adds to the tale.
Eel served with Coconut Sauce
Who can deny the immense health benefits of eel? Our chefs are not committed to taste alone. Our establishment is a keen upholder of public wellbeing. Lady Gaga is packed with eel and topped with spicy tuna and tobiko.
To begin with, eel is loaded with vitamins and minerals. The latter is especially crucial in that it balances the body's pH levels. Eel reduces menstrual pain, improves skin and resists tumorous growths. Lady Gaga is therefore something to reckon for. After all, what could be a bigger surprise than this for someone who wonders about a sushi takeout near me!
That is the point indeed. Japanese tradition is not confined to sushi. Depending on the earnestness of cooks, it might be extended beyond the clichéd notions and yet preserve the core of Japanese cuisine. We do just that. At Luna Asian Bistro, our customers expect us to widen the boundaries of taste and relish the multifarious characteristic of Japanese food. One could not be prouder to relent.