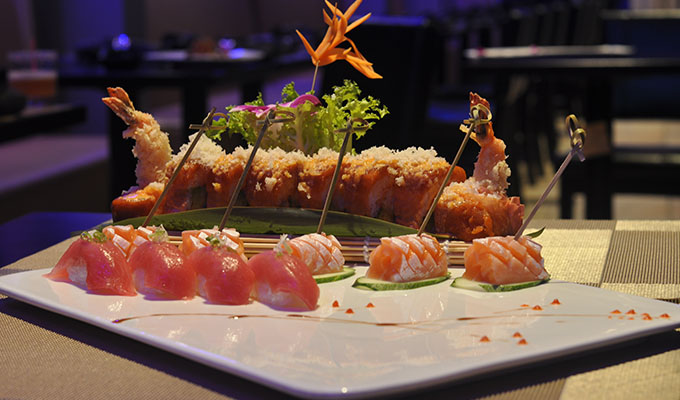 Battered and deep fried, the tempura is a traditional Japanese dish consisting of seafood and green vegetables. The dish, thanks to the Portuguese residing in Nagasaki, continues to be the bastion of Japanese cuisine. Being the most recommended Asian fusion restaurant in Queens, our establishment is renowned for its special tempura dinner that is also competitively priced.
At Luna Asian Bistro, our chefs make the finest vegetable tempura; one that is instantly evocative of the traditional tastes of quintessential Japan. Besides, vegetable tempura has its own peculiar health benefits.
To begin with, a plate of vegetable tempura is loaded with proteins. An average of seventeen grams of protein is more than enough to supply around 37 per cent of protein requirements of a woman. The same is approximately thirty per cent for a man.
It is important to note that neither flour nor vegetables have the required amount of protein. However, upon coming together, they make it complete. Add to it the highly refined taste brought in by our expert chefs.
Another highly recommended delicacy at our disposal is the shrimp tempura. Contrary to popular notion, it is not that fried foods are always bad for health. Moderation is the key. Besides, it is important to note that some fats are genuinely good for you.
At our establishment, we complement the alleged wildness of a platter of shrimp tempura with a variety of healthy oils such as canola, peanut, sunflower and grape-seed. So if you are wondering, 'Where may I find the richest vegetarian comfort food near me?' drive to our doors now.
What if you could grab a plate of scrumptious chicken katsu curry? At Luna Asian Bistro, our chefs bring you a carnival of flavors. If you are concerned about your gut health, consider chicken katsu with bone broth.
Go for our peanut butter variant which is real smooth on the gut. You may also consider adding gluten-free flour and dairy-free yoghurt to make the chicken all the milder. It will all be as you like it with us.
Luna Asian Bistro continues to uphold the quintessential values of Japanese cuisine. At the same time, our chefs leave no chance to experiment where it is indeed possible. Consequently, we bring you a perfect blend of modernity and tradition which eventually is a celebration of taste.