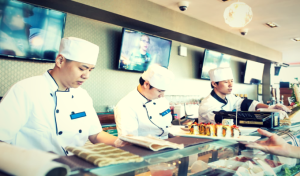 Why would you take time out to visit an Asian fusion restaurant? Is it the food alone which determines the magnitude of customers? Or are there other equally significant factors that must play their part? At Luna Asian Bistro, admittedly one of the finest Asian fusion restaurants in Queens, we leave no stone unturned to ensure our esteemed customers enjoy both food and finery. Apart from that, the following are three reasons why you should visit our restaurant.
What is food without a breathtaking view of the city lights? At our outlet, we pay special attention to catering to the aesthetic preferences of our customers. Accordingly, we offer you a memorable rooftop dining experience. At the same time, we also make a point to not let our customers worry about the price.
Our rooftop dining also sports a genuinely diverse menu, which includes both vegan and non-veg items. If you are wondering, 'Where can I find comfort food near me?' drive with your beloved to our establishment in Astoria.
Our sushi counter is the selling point of our establishment. If you are a fan of traditional Japanese food, hurry to our live sushi counter where the chef prepares the dish right before your eyes.
Live counters are all the more special for their degree of reliability so far as the customers are concerned. Moreover, it is somewhat divine in its own right to taste a delicacy that was cooked before your eyes. At Luna Asian Bistro, our live sushi corner is one of the highlights only rarely seen across Asian fusion restaurants in the city.
Last but not least, our establishment is a stickler in hygiene. Our staff leaves no stone unturned to ensure that the collective health of our customers is not compromised with. As mentioned at the outset, there is a lot more besides food which determines the standards of a restaurant. We go the extra mile to make sure each aspect of our eatery is spick and span. If you are demanding, 'Wherever I eat vegetarian comfort food near me should be a spotless place!' our establishment should be your ideal choice.
As mentioned at the outset, there are several factors besides food which make or unmake the standards of a restaurant. At our establishment, we take due cognizance of our customer's preferences, starting from food to hygiene.