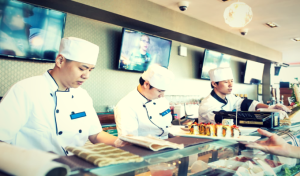 Random, unsavory and unhygienic food habits are a common trait among the outgoing urban city-dwellers in the US today. Not following routine or consuming fast food on a regular basis can wreak havoc on one's digestive system. Hence, a lot of individuals find themselves searching Japanese vegetarian comfort food near me, very often. At Luna Asian Bistro, we aim to serve nothing but the most hygienic and delicious Japanese vegetarian platters for those in search of comfort food.
What Japanese vegetarian dishes qualify as comfort food?
Japanese vegetarian cuisine is both exotic and nutritious. Most Japanese vegetarian dishes are chockfull of flavor and also go easy on one's digestive system. If and when you contact our restaurant for Japanese comfort food, you can take your pick from the following:
Our seaweed salad is the definition of nutrition in a bowl. Shredded seaweed, tossed with leafy, green vegetables such as lettuce and onion, the salad offers a healthy meal that also keeps your stomach cool thanks to the absence of spices. You can enjoy some light pickled ginger on the side for taste.
If you are in the mood for something warm and wholesome, then you cannot go wrong with some vegetable tofu soup. Our vegetable tofu soup is immensely popular among our vegan and vegetarian customers. The nutritious tofu is cooked to perfection; every succulent bite with a ladleful of soup is an unforgettable treat to your taste buds.
Our patrons can also enjoy their favorite vegetables as tempura. The crispy, light snack serves an assortment of nutritious vegetables, fried in an equally light batter. This Japanese specialty is a must-try vegetarian delicacy and is best had with a side of tangy tartar sauce.
Peanut avocado rolls are another popular vegetarian comfort food available at Luna Asian Bistro. Our skilled staff cooks the avocado rice with a selection of other vegetables and peanuts. The rice mixture is then rolled neatly with the help of seaweed. The result is a mouthwatering dish that is best had with a side of wasabi.
If you find yourself searching 'Japanese food menu near my location' for a meal of vegetarian comfort food, then an order of our avocado roll is the perfect solution. This simple yet nutritious Japanese delicacy is also served with a side of wasabi to balance the sweetness of the vegetables with some spicy tanginess.
So, if you are looking to go easy on your stomach and also consume something exotic and delicious, then do not forget to these Japanese delicacies at Luna Asian Bistro.