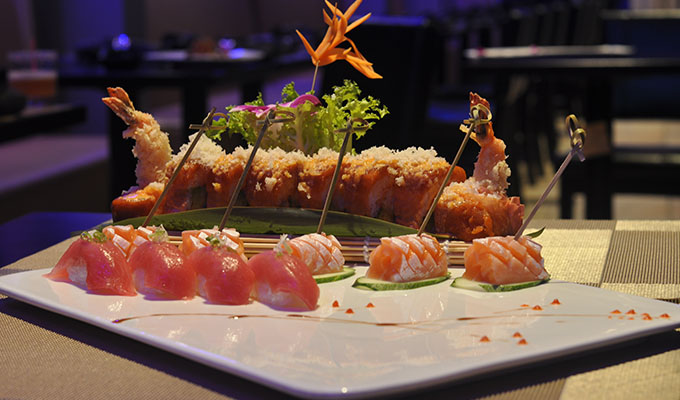 Just like Chinese food, Japanese cuisines are gradually becoming popular throughout the world. It is because unlike many other cuisines, this particular type of food is healthy and also tasty. Traditional Japanese cooking has been famously known for their balance of the nutritional property. The use of raw fish and any other types of edible sea creatures is something special of Japanese cuisine. However, if you have not tried out this particular cuisine, then you should certainly search for Japanese Food Menu Near my Location online and visit a restaurant of your choice. If you get confused while going through the list then here are five most famous Japanese dishes to help you out.
Sushi –
The name is known to most of the people in the world. This is because it is a famous dish that has been admired by many of the people. The sushi is available in different types of bite sizes, and they are also very colorful by looks. The sushi is made with raw fish, which is then wrapped around a layer of sticky rice. There are varieties of sushi which are available in different types of shapes and ways.
Sashimi –
Sashimi came much earlier than sushi. These were eaten without rice. By the name, it means thinly sliced raw food. This, however, may vary from beef, chicken, fish and any other type of seafood and meat that are popularly eaten by the Japanese people.
Tempura –
Battered fish and meat are one of the favorite culinary that have different varieties throughout the world. Tempura is the battered and fried version of fish, seafood, or vegetables. The pieces are cooked in some ways that those are crispy and perfect. However, if different parts of Japan, the fries are eaten differently. Those are eaten with a dipping sauce in Tokyo. There is also a variety of dipping available in the Kansai region of the Kyoto and Osaka.
Tsukemono Pickles –
These are traditional Japanese pickles those are therein the culture from the ancient period. These are prepared with varieties of vegetables. Some of the popular are eggplant, radish and also fruit pickle. If you want to get your hands over this particular type of food, you can get it done by searching for Vegetarian Comfort Food Near Me online. These pickles do not only taste good, but they are available in bright and vibrant colors.
For those who have not tried out pickles and any of the Japanese food items, should certainly go to a nice Japanese restaurant and order some of these favorite dishes.