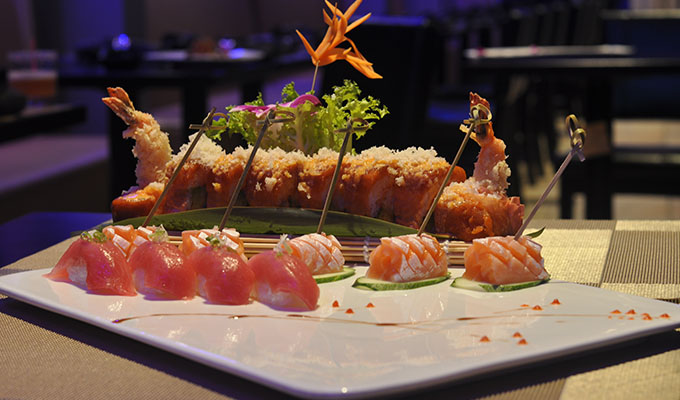 At Luna Asian Bistro we take joy and pride in serving our customers quality Japanese Fusion food. Our humble establishment is a haven for lovers of exquisite cuisine, first. But it is an eatery that also aims to please lovers with a soft corner for gourmet food. If you are planning for rooftop lunch specials in Astoria with your special one, then few other establishments can offer you a cozier, romantic ambiance than us.
If you are wondering why you should come to dine with us, then here are a few compelling reasons why we can promise you and your loved one a memorable dining experience:
1. Unique gourmet recipes
Now you can experience unique gourmet chef's specials at our humble establishment that you will find in few other venues. Treat your loved one to New York and Pop-culture themed delicacies like the 'Lady Gaga', 'Manhattan' and 'Spider Man'.
Our special kitchen dinners like the 'Pan Seared Chilean Sea Bass' and 'General Tao's Chicken or Shrimp' are also there to deliver a perfect Japanese Fusion fare to your table that is savory, to say the least.
2. Dreamy dessert menu
We take pride in pampering our customer's sweet tooth with our skillfully crafted desserts. Few other places in Astoria can offer you and your loved one Asian sweet-meat delicacies like 'Green Tea Crepes Cake' or the fusion marvel of 'Fried Ice Cream'! You can pamper your loved one and their sweet tooth with our unforgettable dessert menu.
3. Romantic ambiance
We pay special attention to creating a romantic setting for the love-birds among our esteemed customers. What's not to like about a rooftop sushi restaurant that looks over Queens, with an alcoholic beverages bar menu to seal the deal? Eat, drink and make merry with your special one when you grace our humble establishment. If you reside in Queens, then you can search romantic rooftop restaurants near me, to find us!
4. Quality control
We pay particular attention to maintaining the quality of our service, so you and your partner spend a day worth remembering with us. You can expect the freshest quality supplies in our kitchen which translate to a delicious Japanese fusion fare on plate; we maintain clean surroundings so you can breathe easy and eat without a worry; our expert kitchen-staff, waiters and chef ensure that your dining experience cements the foundation of your relationship for days to come.
So, dine with us at Luna Asian Bistro. Our entire service is an effort to ensure we see you and your partner time and again as we become a memorable part of pages of your relationship.