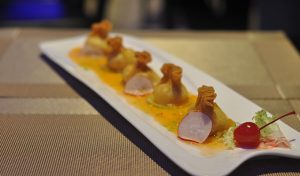 Are you bored with the everyday cuisine? If yes, then it is a great time to try some fusion dishes at your nearest fusion restaurant! There are many of you who may want to know what fusion eateries are all about, and how do they differ from restaurants that offer an authentic line of dishes. Well, fusion restaurants essentially combine two or more different culinary styles/origins and prepare a new delectable dish. You can visit different Asian Fusion Restaurants in Queens to try some fabulous dishes with distinct flavors.
It is of course quite exciting to try new food but there are some who would prefer traditional and separate items without the addition of any other item from another cuisine.
1. An exhilarating dining experience
This is one of the prime reasons why one would opt for an Asian fusion restaurant such as Luna Asian Bistro. These eateries have become widely popular these days mainly because the chefs constantly experiment new tastes and offer new flavors, besides the mainstream cuisine. So, if you prefer for new food, these eating out joints would be worth spending the money.
When you visit a traditional restaurant, you exactly know what you will be served at the table, which could make the dining experience a little boring after a few years of eating the same cuisine. With authentic cuisine which is so easy to define, you should try something new each time you plan to dine outside your home.
Depending on the kind of fusion cuisine you opt for, your experience can be quite exhilarating. This also means that your food experience may/may not be pleasing all the time. There is no doubt that traditional cooking is much more refined and comfortable, but chances are there you might simply fall in love with the warm, mind-easing fusion dishes too.
So, by now you must have gained a brief knowledge on fusion restaurants and how they differ from the regular authentic eateries out there. Well, if you want to shift from being a purist and try some special flavors then opt for delicious dishes at any Asian fusion restaurant near you. To find various non-vegetarian and vegetarian fusion restaurants, you need to search online as 'best vegetarian comfort food near me' or 'best and affordable non-vegetarian restaurants near me.'